Every Packaging counts
We've been the best home sorters for decades, thanks to door-to-door PMD collection. But out of home, too much packaging still gets lost. It ends up with the residual waste or as litter. And that is a shame, because every piece of packaging counts.
Out-of-home sorting
Sorting in companies – close cooperation with everyone involved
At the moment, a lot of PMD still gets lost in the residual waste in companies, despite the obligation to sort. So there is lots of potential for additional recycling here. Fost Plus is taking action in various ways to be able to recover this packaging after all. Successfully, because in 2022 we again achieved our goals here with the collection of over 24,000 tonnes via PMD Companies.
Valipac, the organisation responsible for recycling commercial and industrial waste, is one of our most important partners here. In addition, we work closely with the waste companies responsible for collection in the field. We help them to improve the services they provide for customers and optimise their logistics via a network of local transfer stations for the PMD collected. We also joined forces with Facilicom, one of Belgium's biggest facilities management companies – after all, cleaning teams are crucial for waste management in offices.
Finally, a great deal of attention is paid to inspection and enforcement. Together with OVAM, the Public Waste Agency of Flanders, we have assigned another two people to sorting inspections and enforcement in companies. They have carried out over 700 inspections since the end of 2021. Stubborn offenders risk fines that could reach thousands of euros.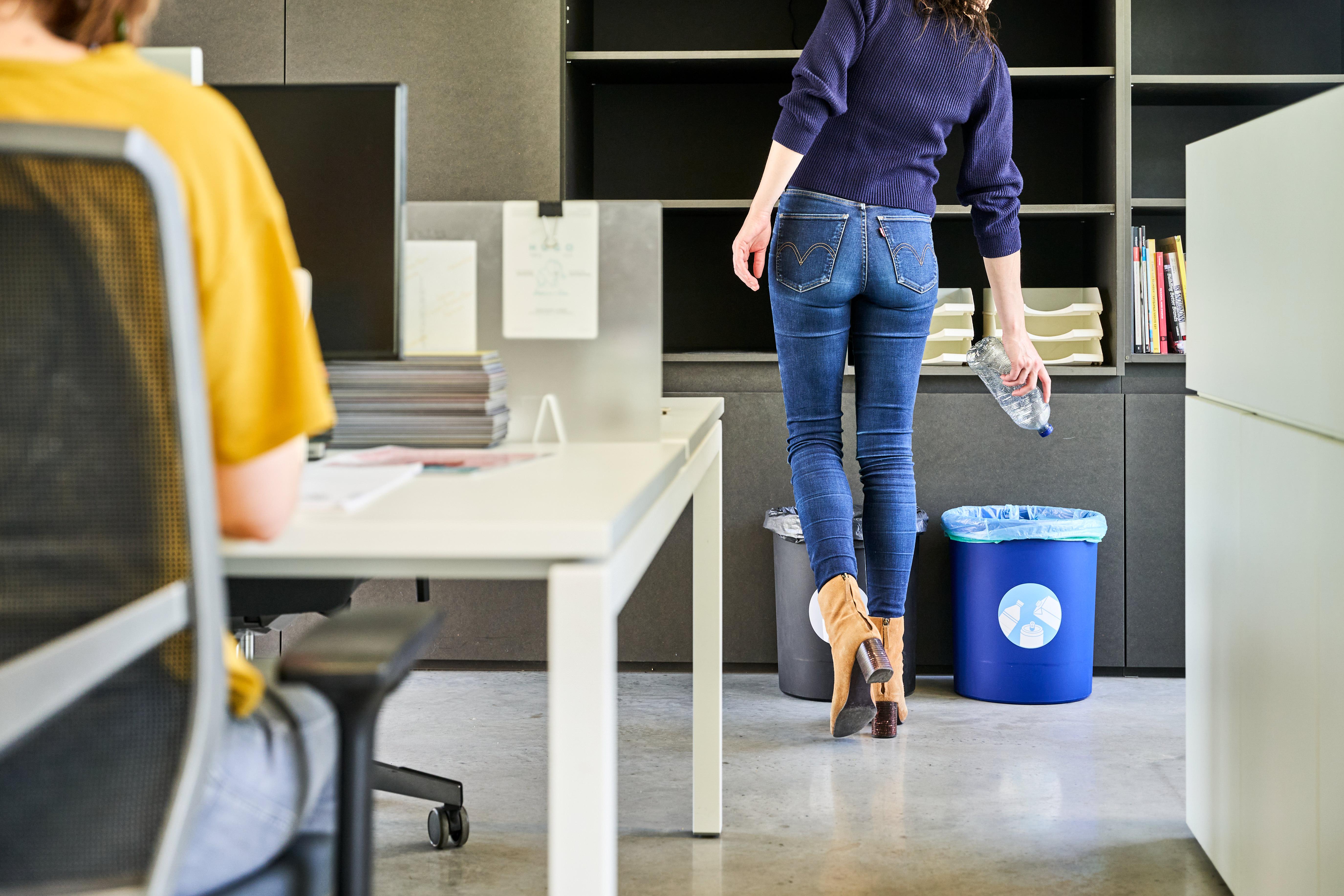 Target locations – new approach increases efficiency
During the coronavirus years 2020 and 2021, many of our out-of-home sorting projects had to be put on the back burner. We used this lull to assess our approach. In the past, the main focus was on providing the necessary infrastructure – such as waste bins or sorting islands – and supporting individual companies and organisations. We aim to carry on doing that in the future, but at the same time we also want to evolve towards a more scalable approach, tailored to certain sectors and in cooperation with everyone involved.
We put this new vision into practice for the first time in 2022 in the hospital sector. In addition to the standard PMD, a lot of packaging is found here that resembles household packaging. Examples are ointment jars or plastic film used to wrap sterilised utensils. But of course they also produce hazardous medical waste, such as used syringes, as well as a lot of masks and disposable gloves.
So it was important to provide clarity for the hospital staff and draw up specific sorting rules for the medical sector. We put together a panel of experts including representatives from the UZ Leuven and ZNA hospitals, the waste company Veolia, Valipac and OVAM (the Public Waste Agency of Flanders). The result was an approach that is practicable, takes account of the safety requirements in the sector and ensures efficient and sustainable recycling. The approach and the sorting rules are now being rolled out in all Belgian hospitals. They are sure to prove useful in similar environments as well, such as doctor's practices and residential care centres.
This new approach is bearing fruit in target locations where we have been active for quite some time as well. Despite the ever greater emphasis on reusable cups, proper sorting at festivals remains a focal point. Small festivals can request material via their intermunicipal company. Large events can count on support in the form of site visits, infrastructure, administrative assistance or training courses. By working closely with the waste operator, together we are gaining an ever clearer picture of the waste flows and needs, so as to be able to respond to these together.
Litter – bringing about a sustainable and lasting approach
Litter is and remains a thorn in the side of everyone concerned about public cleanliness and a better living environment. Despite the huge efforts that we all make to contain the problem, it is clear that we need to do more and better. Our members would like to see a bolder approach leading to a lasting change in behaviour.
More active role for business
During the course of 2022, a new European directive came into force, supplementing Extended Producer Responsibility. Among other things, the directive states that as of 1 January 2023, companies whose products and/or packaging end up as litter have to bear the clean-up costs.
The Belgian business world is seizing the opportunity provided by the new directive to play a more active role in the fight against litter. They want to contribute to a more efficient approach on the ground as well. Fost Plus aims to take on a coordinating role here, just as we already do for the collection and recycling of packaging. This means we can be a central point of contact for the various governments and can create advantages of scale by sharing knowledge and best practices.
While awaiting decisions from the various governments, this coordinated approach is being tested on the ground in pilot projects.
Belgium as a pioneer – the digital deposit system
Belgium has always played a leading role when it comes to recycling packaging. Ever since the first PMD bags appeared on the streets in 1994, this country has set the tone for the whole of Europe. We are now continuing this pioneering spirit in our approach to litter. Technology and innovation will again play an important role in successfully dealing with the problem.
In 2022, a number of major drinks producers, the retail sector, their respective federations, Fevia and Comeos, and Fost Plus commissioned a study into the feasibility of a smart deposit system that builds further on the strengths of the blue bag. This involves putting a unique code on each piece of packaging. To reclaim the deposit, consumers do not need to return to the store with their used packaging. They can simply scan the code with their smartphone. This can be done at home when they sort the packaging in the PMD bag, or on the go when they throw the packaging in the correct litter bin.
The first pilot projects are to start in 2023 to test the system in practice and hone the technical modalities. The ultimate aim is to roll out the smart, digital deposit system across the country by 2025.
Rewarding positive behaviour – we are making the Click together!
Litter is the consequence of an attitude problem among a relatively small minority of the population. Thorough enforcement remains essential to change the mindset of this stubborn and asocial minority. At the same time, we also want to create a positive incentive for the vast majority who do as they should.
With the Click, we offer an answer to this. The principle is very simple. People who pick up a piece of litter or throw their own waste in the correct bin when they are out and about should be rewarded for doing so. Via an app on their smartphone, participants can scan every item and in exchange, they receive points that they can exchange at local traders, the commune or another organisation. This small payment also strengthens the idea that there is value in used packaging and waste.
The initiative reached cruising speed in 2022. The number of users increased sixfold between January and December, reaching 60,000. Together they accounted for 350,000 clicks and as many pieces of litter avoided. By the start of May 2023, the number stood at 735,000 clicks. Nine communes, towns and cities have now joined in, along with a number of large companies including Jacobs Douwe Egberts and Coca-Cola. The initiative is also supported by organisations like the nature conservation association Natuurpunt and the app has been integrated into the KBC Mobile app. In other words, the Click is gradually developing into a real social movement.